What's Coming Next...
SIGN UP TODAY FOR VACATION BIBLE SCHOOL
Today is the day! Sign up now for Vacation Bible School at the Mahomet United Methodist Church!
Kick-off event at church--"Starting Line up" Friday, July 17th at 7 PM, (At Home Kit pick up)
VBS July 20-24 At Home experience with check-ins from us!
Closing ceremony at church--"Finish Line" Sunday, July 26th, 7 PM
CLICK HERE

 to watch a video encouraging you to join the fun!
CLICK HERE

 to sign your family up now!!
If you are interested in volunteering (just a little or a lot) please follow the directions on the registration form to join the REMIND group, or respond to this email.
Let us know if you have any questions! Such exciting news!
VBS TEAM at the Mahomet United Methodist Church
Sunday Services Schedule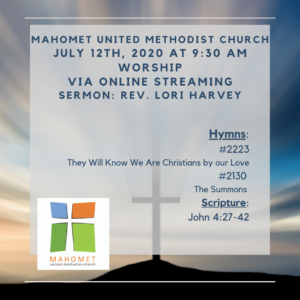 Click Here for a complete Worship Bulletin.  Click Here for the Mahomet Meet-Ups questions that correspond with this Sunday's worship.
The Sunday church services will be published on Facebook and on the MUMC youtube channel for viewing.