Sunday Services Schedule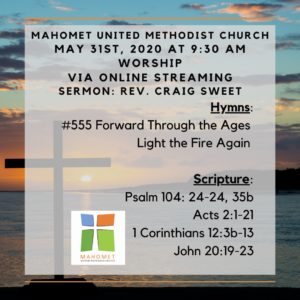 CLICK HERE for a complete Worship Bulletin for May 31st, 2020 and for the Mahomet Meet-Ups questions that correspond with this Sunday's worship.
The schedule below will resume when we are able. In the meantime, services will be held via Facebook Live and will be put on our youtube channel for viewing.
8:15 -     Prayer Circle - come and share with us in prayer and preparation
8:30 -    Traditional Worship
9:45 -    Discipleship Class 
10:30 -  Prayer Circle - come and share with us in prayer and preparation
**10:45 - Contemporary Worship
**Children's Worship (Bible Lesson): Parents of children ages 3-6 years old we have something special for you! All this talk about W.O.W. has left you thinking "but what about my little?" Each week during the 10:45 service we hope your kids will start worship with you and after "Children's Time" with Pastor Sweet they will be dismissed with a teacher to enjoy an age appropriate Bible lesson.

Our Core Values
Our growing love for God and ALL our neighbors

Faithfully growing as disciples of Jesus Christ together through:

Spirit filled worship

Relevant Christian education and transforming study of God's word

Joyfully serving God and others

Reaching out, living God's grace and Jesus' love

Inviting and embracing people as they are, where they are
What's Coming Next...
ClICK HERE to read a letter from Church Council Chair, Jeff Bunting
CLICK HERE for information about FOOD ASSISTANCE AND DONATION PROGRAMS in Mahomet, including Helping Hands, Mom's Pantry and MAYC's Sack Lunch Program.