What's Coming Next...

CHRISTMAS CANTATA

Please join us this Sunday, December 16 at 8:30 am or 10:45 am for our Christmas Cantata, "Morning Star". This is presented by the Mahomet United Methodist Church Chancel Choir.
The Christmas story is one of hope. It is a message for each of us at any stage of life's journey reminding us that in our own dark nights Christ, the Light of the world, has come. The blending of new and familiar Christmas melodies ensures a meaningful experience.

For the most part, Christmas is a time of celebration and joy. For many, however, this is a difficult time of year because the approaching holiday does not bring with it the joy and happiness that is advertised on television or in greeting cards. Many of us are carrying significant weights: grief, loss, depression, anxiety, financial stress, unemployment, uncertainty, aging parents, sick children, recent diagnoses, unknown illnesses, or perhaps you just feel pressured and overwhelmed by holiday preparations. The public tone of the season does not resonate with their private experience.
This year we are trying to reach out to those who feel such burdens by adding a worship service on The Longest Night, December 21 at sunset, 4:31 pm. We will be creating in worship a sacred space for people living through difficult times. We will reflect and hold out healing and the hope that Christmas brings. It is our prayer that our Longest Night service will be a place where people will have an opportunity to grieve, but also to experience hope. Anyone, everyone in the church and in our community is welcome as we experience a quiet, spiritual time in the midst of a far too often busy and also a blue season.
CHRISTMAS EVE SERVICES SCHEDULE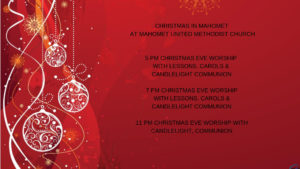 Sunday Services Schedule
8:30 -    Traditional Worship
9:30 -    Coffee Fellowship
9:45 -    Sunday School Classes: Pre-School - High School
9:45 -    Discipleship
10:30 -  Coffee Fellowship
10:45 -  Contemporary Worship
Supervised Nursery available 8 to 12 each Sunday for children up to age five.
Check the Welcome Center for Guest Name Tags or to request a permanent Name Tag for yourself.
Permanent Name tags are available for everyone.  Please wear yours so that others can get to know you.  To request a permanent nametag, indicate that on your attendance sheet or sign up at the Welcome Center.  Temporary nametags are also available at the Welcome Center. Note that new nametags are in alphabetical order.